Even though I am a native of the Laurel Highlands region, I am CONSTANTLY learning new, awesome information about this area. It never ceases to amaze me.
It's been storming here a lot this week, and was basically non-stop yesterday. The water levels everywhere have been rising. There were even parts of roads that had water on them on our drive in this morning, which started a conversation in the office about various water levels in the area. We've received information and videos that show the water levels are super high right now, especially at Ohiopyle. I looked it up, and found a nifty graph to show just how high the water was.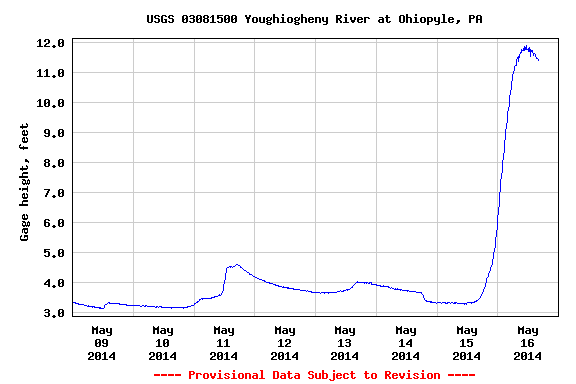 (http://waterdata.usgs.gov/pa/nwis/uv?03081500)
Since I am the newest addition to the LHVB, I don't know all of the cool information that other employees know. For instance, during our water level conversation, Stacey told me that George Washington was trying to use the Youghiogheny River to get to what was then Fort Duquesne. Fort Duquesne was located at the point where the three rivers meet in Pittsburgh. This area was imperative to obtain because of the waterways for settling and trading.
Anyway, Washington was employed by the British, and brought soldiers with him to force the French out of the Ohiopyle area in an attempt to find an all water route to what is now Pittsburgh. During his voyage, he ultimately deemed the Ohiopyle Falls impassable. Perhaps Washington encountered the falls on a day much like today? Regardless, he was most-likely correct. Although water enthusiasts are allowed around the area, people are only allowed to travel down them at certain water levels with strict conditions, and during the Falls Race, because it is so dangerous not only because of the falls but also due to the numerous rapids after.
However, this stopping point at the falls was what basically started the French and Indian War. When Washington couldn't get through, he attacked French soldiers and built Fort Necessity.
There is some truly crazy history in the Laurel Highlands region. Just think, you can float rivers that one of our founding fathers has attempted!
Resources:
http://www.fay-west.com/ohiopyle/guide/history.php
http://www.history.com/this-day-in-history/first-blood-of-the-french-and-indian-war