The Mud on the Mountain events at Seven Springs Mountain Resort have become a popular way for athletes and non-athletes alike to challenge themselves by battling through tough terrain and obstacles while getting "down and dirty" in the Laurel Highlands.
Earlier this month, just a few short miles down the road (or down the mountain) from Seven Springs, YMCA Camp Soles held a different type of obstacle race. The annual YMCA Adventure Warrior Race is billed as an event to "bring out your inner survivor" and features a muddy course filled with a variety of obstacles, both mental and physical, around Triss Lake and across the camp's spacious grounds.
Approximately 70 adults from western Pennsylvania and Ohio participated in the morning's race, which featured 20 obstacles across a course that stretched more than four miles and at one point, gained 1,000 feet in elevation. Participants navigated their way across balance beams, under canoes, over hay bales, through a water tunnel and over a "Wall of Doom." Runners were also instructed to memorize and later recite a motivational phrase at the "none shall pass" station along the course, which is where I spent the day as a volunteer. Luckily only a few runners were sent back up the hill to relearn the phrase before continuing on the course, which ended with a trip down a giant slip 'n slide at the finish line.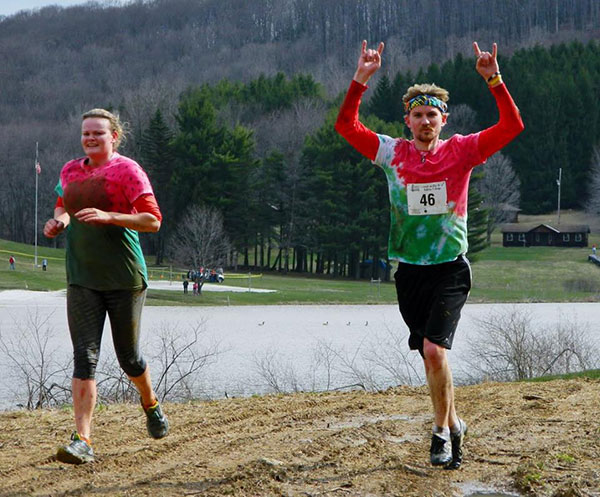 At the end, awards were presented to the top overall male and female individuals, top male and female teams and the top co-ed team.
In the afternoon, Camp Soles offered a new opportunity for parents and their kids to "race their soles off" over a modified, one-mile race course. An estimated 130 parents and their "child warriors" participated in this first-time race.
Next year's event, the 5th Annual YMCA Adventure Warrior Race, will be on April 9. Registration opens Dec. 1. Keep an eye on the race's website and Facebook page for more information and updates.