Earlier this week, I had the pleasure of taking a peek at the remodel of the Courtyard by Marriott in Greensburg. The general manager, Stephen Burton, gave me a whirlwind tour of the remodel. He's like a proud papa, and rightfully so.

The common areas have all been redone with new carpeting. To the right of the entrance is the newly arranged kitchen/seating area. With Courtyard properties breakfast is not included. Guests can opt for a Continental at $6.95, or a hot breakfast at $8.95. They offer a very nice variety of items, including Starbucks coffee. Dinner is also available on property.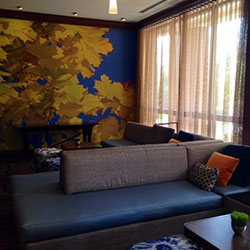 Moving on from the dining area, a guest can enjoy a wide open entertainment/relaxation area. The space has been completely reconfigured with a nice semi-circle seating area with large screen TV. Local coffee table books are available as well. There is a nice long eight-seat Captain's Table which Stephen says their corporate travelers enjoy for meetings. They kept most of the wood in this area as well, which was requested by Stephen. The large fall leaf wallpaper in the room is popular for photos.
Outside they have added a mobile fire-pit. The waterfall remains popular for weddings. He shared with me that they did a 70-person wedding, and he was in the kitchen making crab cakes!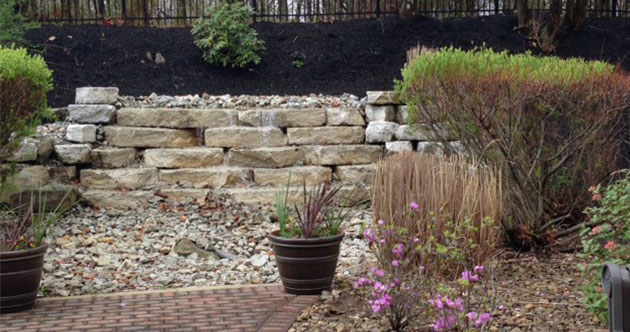 I really love the newly decorated guest rooms. They are a light blue, grey and white palette and have a very calming feel. The in-room Jacuzzis are gone, and in their place are really cool oval sleeper bed chairs. They did keep the wooden armoire and desk which adds a nice warm feel to the rooms.

The thing that I found most exciting is the new "Go Board" across from the front desk. This touch-screen shows departing flights from Pittsburgh, local favorites showcasing favorite eateries and points of interest and the mileage to them.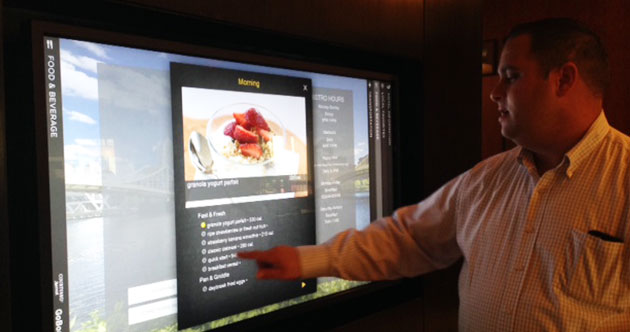 I really recommend a visit or even a stay. I was really impressed with the new additions and renovations.