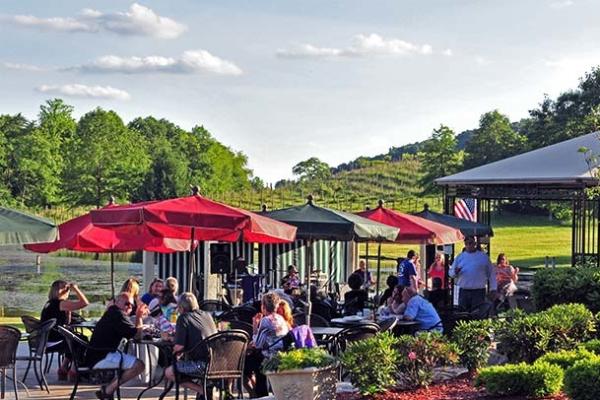 Live Entertainment
Saturdays 1-5pm | Sundays 12:30-4:30pm
1085 Clay Pike Road
Acme, PA 15610
Join us to taste our wine, listen to great live entertainment and enjoy our outdoor patio!
Saturdays 1-5pm | Sundays 12:30-4:30pm
September 3 - Back In Time (Oldies)
September 4 - Shiva Skydriver (Rock)
September 10 - Martyr Kanin (Rock)
September 11 - John Kerr (Acoustic Rock)
September 24 - Back In Time (Oldies)
September 25 - Phil & Roxy Trio (Soft Rock)
October 1 - Rachel B (Soulful Pop)
October 2 - John Kerr (Acoustic Rock)
Patio Policies
Parties of 5 or more MUST make reservations in order to sit together.

Reservations or Wine purchase required for patio admittance (minimum purchase: 1 bottle per couple)

Events and patio facilities are for Stone Villa patrons only.

Only Stone Villa Wine can be consumed at events & outdoor facilities.

No other alcoholic beverages are permitted on premises.

Stone Villa asks that all guests act and drink responsibly.

Visitors must leave premises at close of business day.

No activities planned for children/children must be under adult supervision at all times. No balls, frisbees, etc. and no riding toys allowed.

Tables and chairs are not to be moved. 

Fishing is prohibited.

Pets are not allowed in building and must be leashed when outside.

Pets are restricted to designated areas.

Schedule and policies are subject to change without notice.